Alternative Treats for the Kids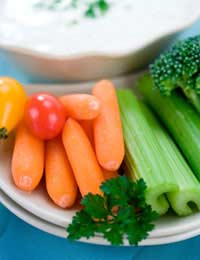 It's a dilemma faced by many a mum and dad – how to give the kids a little bit of what they fancy, while not getting them addicted to junk food or chocolate. You want to avoid the E numbers, additives, sugar and salt that seem to be in many a pre-packaged children's snack food – but you don't want them to be deprived of food they will enjoy.
Making Healthy Treat Foods Fun
Kids as a rule tend to like food they can play with, and anything they can dip seems to go down a treat. Give them a savoury snack that's healthy too by chopping up some carrot or celery sticks, cucumber, sugar snap peas and baby cherry tomatoes and give them some dips to play with – houmous is a good one to try, or if the flavour's too strong, maybe a creamy yoghurt based dip or some cottage cheese.
If the kids don't see chopped up vegetables as a treat food in any shape or form, and refuse to eat them, you could swap the crudités for some toasted pitta bread, baked tortilla chips or crisp breads, and see if they take to those instead?
The same principle applies to sweet treats. Fruit may be dull to the kids when it's just out of the fruit bowl, but if you chop it into pieces and serve it with some fruity yoghurt, apple sauce or even a little melted dark chocolate, watch their little eyes light up!
Baked Treats That Kids Will Love
Kids love to be involved in everything, and food preparation is no exception to the rule. Encourage a lifelong love of cooking by helping them make some simple snack foods as treats.
All kids love pizza, but if you make your own you can bypass the fat and unhealthy ingredients and make a treat that the kids will enjoy creating and eating too.
You can buy ready made plain pizza bases in various sizes, or make a pretend snack pizza from an English muffin if they are little. Add some tomato ketchup or puree, sprinkle on some grated cheese (they might like to help grate it too) and add their favourite healthy toppings – some tuna and sweet corn, perhaps ham and mushroom. Pop their creations into the oven for a few minutes, and you'll have baby sized treat pizzas that they can be proud of.
Sweet Treats To Tempt Kids' Taste Buds
For kids with a sweet tooth, bake apples with delicious fillings – mincemeat is a scrumptious filling that will satisfy a sweet tooth, and the kids can help to spoon the mincemeat into the apples and feel like they've done something creative!Or if they like bananas, make a quick banana split with some ice cream and melted chocolate; or make delicious fruit kebabs from pineapple, melon, kiwi and strawberries.
The perennial kids' favourite treat to bake at home has to be the rice krispie cake! Easy to make, if rather messy, they can be customised to be healthier if you use dark chocolate to melt over the krispies, and sprinkle some raisins or chopped, dried apricots into the mixture too. Then all you need to do is let them set in the fridge until they are lovely and chewy!
You might also like...