How to Set Up Your Own Fast Food Franchise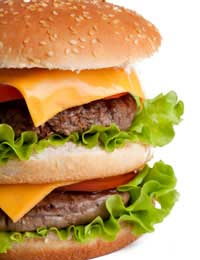 When economic times are tricky, it might seem as if starting or taking on your own business is a risky venture. That's why many people look into the idea of franchising an existing business – the risks are less and the potential income is good, if the franchise is managed well.Buying a franchise to a fast food business could be an ideal way to invest money from a redundancy payout, for example, or the ideal way to start a business without having to risk a completely new setup.
How Does a Fast Food Franchise Work?
Each fast food outlet is legally owned and run by the franchisee, the person who has bought the licence from the business. However, the franchisor is still in control of certain aspects of the business, such as the way the products are marketed and sold. The franchisor will also have a certain amount of control over the quality and standards of the business, set out in terms and conditions.
The owner of the new franchise , which will be you, has to invest some money and pay the franchisor for permission to use the brand and to sell its products.
What Sort of Costs Are Involved in a Fast Food Franchise?
You have to pay the initial fee upfront to the franchisor, in some cases a grant or a loan may be available for all or part of the costs. Lenders are likely to look more favourably on a loan for a well established franchise, as the risk to them is much lower than it would be if you were asking to borrow money for a new business that wasn't already well-known.
You'll also be expected to pay on-going management service fees – which tend to be based on a percentage of the businesses annual turnover or mark-ups on supplies.
The franchisor has a duty to support all the members of the franchise network, offering training, advertising, and promotional activities.The other costs you will need to consider are the costs of premises, equipment and the stock you need to get the business going. There will also be ongoing business costs such as the rent, utility bills and staff costs.
How to Find Out about Franchises
One way to discover what's available locally is to attend a franchise exhibition. There are many of them, and you can get details of the bigger exhibitions on the Franchiseinfo website.
Some franchise opportunities can be risky, so don't be tempted by big promises – look into the the franchise opportunity carefully and to be on the safe side, you should also make sure that the business offering the franchise is a member of the British Franchise Association.
What to Consider When Purchasing a Fast Food Franchise
It's a big decision, purchasing a franchise, so you'll need to give some serious thought to a few key areas.
Look at the available franchises in your area. The Internet is a good place to start as there are a few reputable sites dedicated to the legal aspects of setting up a franchise, and sites where you can see available franchises in just about every sector, and choose which one is potentially the right one for you.
Once you've narrowed your choice down, do some research into the brand's financial prospects. Get hold of performance figures and financial information from annual reports - many companies publish these online.
Find out if your bank offers business loans for the type of franchise you have opted for.
Carry out some independent market research into the business and assess the competition in your area. Is the market for that type of fast food already catered for? If so, perhaps you could consider a different option?
Write a business plan. You might want to get advice from a professional about what to include in your business plan – speak to your local Business link or look for help online. There are plenty of resources that will guide you in how to write a convincing business plan, so take your time and make sure you have all aspects covered.
Ask for a copy of the franchise agreement and make sure that you obtain professional advice before you sign it.
Where Can I get Independent Advice on Franchising?
The British Franchise Association (BFA) is an independent body that can give unbiased advice. They offer potential franchisees guidance and run useful seminars as well as giving information about BFA members' franchise opportunities – both new and existing franchises.
You might also like...
Hi there ! I hope you are doing well! I looking for a partner to help developing a fast food menu . Regards Soleiman
Soleiman
- 12-Dec-19 @ 11:01 AM