The Anti-Junk Food Movement in the Media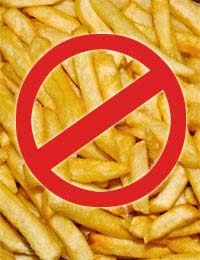 The media has a lot of power when it comes to both the promoting and the demonising of fast food.
The power of advertising hooks young children in at an early age, showing them sugary breakfast cereals and splashing lurid posters across the front of fast food shops displaying the latest toys and special offers.
Fast Food Advertising
TV adverts for junk food and fast food are on the decline, after tighter regulations on what can and can't be marketed to children.
According to Department of Health figures, TV advertising fell by 46% between 2003 and 2007, and there has been a lot less advertising focused on children promoting sweets and chocolates, fast food, drinks and cereals.
In the UK, the Government has also been working with The Office of Communications (Ofcom) and the Department of Culture, Media and Sport, looking at whether the current restrictions on food and drink advertising to children are actually working. So promoting fast food, especially to children, seems to have taken a nose-dive, although this doesn't seem to be affecting profits too much!
Fast Food on the Television...
It seems to be de rigueur in current, health conscious times, to take a swipe at fast food and blame the junk food industry for everything from obesity to diabetes and heart disease.
TV chef Jamie Oliver is well known for his dislike of fast food, although possibly because people who live on chips don't buy his recipe books! In 2005 he was active in trying to get junk food banned in schools, a campaign which coincided with his series on school dinners. The scenes of children clamouring for chips and crisps and one mother feeding them contraband goodies through the school gates will probably go down in TV history.
The chef's most recent foray into teaching us that fast food is bad for us is his attempt to teach a whole town, Rotherham, to cook. Showing families existing on a diet of kebabs and takeaways being converted to the joys of fresh food, the series has been under fire for its portrayal of the people of Rotherham, as he described them as, "lonely and vulnerable and quite frankly dying young" - but he did get the message across admirably that cooking can be easy – and is much better for you than another greasy kebab!
The Reputation of Fast Food
Hardly a week goes by when another report isn't produced on the national diet and how one aspect of it or another will make you fat, unhealthy or kill you off. Fast food is one of the favourite areas of criticism, blamed for the rising 'epidemic' of obesity and heart disease.
The UK health minister Ed Balls has suggested that all fast food outlets should advertise calorie count and nutrition information on all of their food, and also that fast food shops should not be allowed to open near schools. He even goes as far as to say that kids shouldn't be allowed to leave school premises in case they buy it.
Children are being brought up with the knowledge that fast food is terribly bad for them and full of fat and calories, which is all very well, but what do children always want to do with the things they are told are bad for them? Try them, of course!
You might also like...