The Development of Fast Food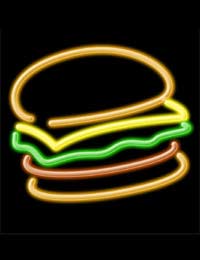 Fast food has come a long way since its humble origins in Roman times in the UK. It's become a way of life for many people, and a multi billion pound industry that one the one hand is enjoyed by many of us. Who doesn't succumb to the occasional fast food take away –and on the other hand a national pariah, blamed for health problems, obesity and all manner of social ills.
Fast Food as an Industry
The development of fast food into the big business it is today can probably be traced back to America. Although there was undoubtedly fast food all over the world in some shape or form many centuries ago, it really started to become a business enterprise when social, manufacturing and economic conditions made it cheaper to eat out.
It was also easier and cheaper to produce fast food while people waited; more attractive to buy convenience foods and snacks as women went out to work; more people owned cars (for drive through in America) and freezers (to store the new frozen convenience meals.)
All these factors combined have made fast food in all of its many formats what it is today.
Early 20th Century Fast Food
Fast food was revolutionised in 1902 with the introduction of the Automat in America, where customers simply queued to select ready prepared foods from a display cabinet or vending machine, paid and either left or ate the food on the premises. From one shop in Philadelphia, the first fast food chain soon developed.
At the same time, the first frozen food was entering the market, and Clarence Birdseye introduced us to frozen fish in the 1920s. The first ever burger chain, White City, opened its first shop in the 1930s, while McDonalds started life as a barbecue stall in 1940.
Mid Twentieth Century
By the 1950s, in the US fast food automats were being threatened by the drive through restaurant. More people now had access to cars and the drive through was a fashionable place to go for a fast food fix. Some of the most popular chains we know of started up in the 1950s too, like Kentucky Fried Chicken (KFC.)
Pizza started to become popular in America in the 1950s, after originally being a food confined mostly to the mostly Italian immigrant populations of New York.
Meanwhile in another development, Swanson, another American company, introduced the first TV dinner in 1954, which proved pretty popular – it sold 10 million in its first year! In 1955, Britain got its first ever Fish Finger.
The Arrival of Fast Food Joints in the UK
The first global fast food restaurant to make its mark in Britain was probably KFC, which arrived in 1965. Pizza Hut followed in 1973 and then the massive global leader that is McDonalds reached the UK in 1974, and its competitors followed suit. Originally, McDonalds was concentrated in the London area, but soon started to spread to the Home Counties and other profitable areas across the UK. Where McDonalds went, Burger King would usually follow on later.
Fast Food, Our Health and The Future
Fast food has become somewhat demonised in the 21st Century, with TV chefs denouncing convenience food lifestyles on television series, calls for chips to be banned from schools and survey after survey pointing out the hazards of eating too many high salt, high fat convenience meals.
To counter some of the criticism, the major players in the industry all attempt to provide consumers with nutritional information on their menu, and most have at least a nod to the healthy option. Some newer chains such as Pret a Manger and Eat have catered for the healthy eating trend by producing fast food that is wholesome and made with natural, unprocessed ingredients – although this doesn't necessarily mean the food you'll find there is either low calorie or low in fat!
The global march of the fast food and convenience meal industry is too powerful to be halted – and on a mission to adapt to the ever changing tastes of the global palate.
You might also like...