Fast Food in France and the Anti Fast Food Movement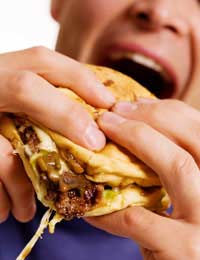 The French are stereotypically painted as foodies, and so you would expect the fast food revolution to have bypassed the French gastronomic culture. Not so. It doesn't matter where you go in the world, you can be sure that you'll find a McDonalds there somewhere, and France is certainly no exception. Despite a slow food movement and the reputation for being able to make a meal routinely last two hours, there are examples of the fast food influence on France too.
French burgers with a Difference
In France, they like to make the most of even the burger eating experience, and so some branches of McDonald's actually serve wine with a meal. Whether or not it comes in a paper cup is yet to be confirmed. The burger chain also runs an annual promotion which it calls Le Saga du Fromage, where instead of the processed orange cheese that gets added to the burgers in the US, or an imitation English cheddar, French burgers are topped with French cheeses like Reblochon. The idea has been proving so popular in France that McDobnalds is cthinking of introducing a similar idea to restaurants in other parts of Europe and Latin America.
Never strangers to controversy, another French innovation was the Foie Gras burger. A burger that, let's face it, could only ever work in France, the Foie gras burger was introduced over Christmas 2010 as a limited edition seasonal treat by Quick, the French equivalent to McDonalds. The burger included foie gras, rocket and onion relish on a beef patty in a bun. The animal rights groups in France opposed the burger, suggesting that it might spark a demand for foie gras, traditionally produced by force feeding poultry with massive amounts of corn and wheat to make their livers, quite literally 'fatty'.
Fast Food French Style
Jumping on the healthy eating bandwagon, the French have a chain (well at the moment there are fewer than ten of them, and they are all in Paris) of fast food restaurants called Cojean – featuring an eclectic menu that includes fantastically good for you wheatgrass juice and a selection of other tasty fast food options that you're very unlikely to see even on a Subway menu in the UK.
The first Cojean was opened in Paris in 2001, since when there have been a further eight locations added to the list, and the chain prides itself on being health conscious and delicious. The opening and popularity of Cojean seemed to pave the way for imitators, and following on from their success, it was followed by Bioboa, Jour, Noon, and Eatme. The Belgian healthy fast food chain Exki got in on the act and hopped across the border, taking their ethos (the company motto is: natural, fresh & ready) to the eager Parisian population,. They opened their first restaurant in Paris' financial district in August 2010. The Unique Selling Point of all these new fast food eateries is that they use fresh produce, all ingredients are clearly labelled, and they absolutely do not fry anything.
The Slow Food Movement
The Slow Food movement didn't actually begin in France at all, despite popular opinion. It all started with an organisation called Arcigola, back in 1986, which was formed to oppose a new McDonald's fast food restaurant opening next to the Spanish Steps in Rome. The Manifesto for the International Slow Food movement was signed in 1989 in Paris, by representatives from 15 countries, and the organisation now has members in more than 130 countries. Local representatives in each chapter, within each country, take charge of promoting local artisan foods, and farmers' markets , as well as putting on events designed to give the fast food loving public across the world a taste of locally produced foods. Slow Food is a concept that has really taken off in some parts of Europe, notably France and Italy, but has yet to make a big impact on Europe as a whole, or on America.
You might also like...