What Are the Healthier Types of Fast Food?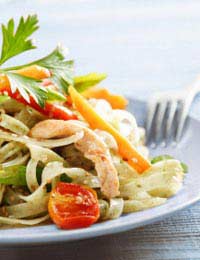 Fast Food is often unfairly criticised for being unhealthy, when not all fast food is equal by any means. Fast food can be anything from a quick sandwich from the local delicatessen or a full on Indian Banquet from your local takeaway.
No matter what your choice of fast food, there is always a way to make the healthy option work for you.
How To Have A Healthy Takeaway
When you're ordering your fast food, don't think about how much food you can get for the money, or which extra value deal to opt for. Just choose the food that you really want, and enjoy it without overdoing it.
If you are on a diet, the lower calorie and fat options on the menu will be the ones you'll automatically choose. It's not difficult to make an unhealthy sounding meal choice into a better option – bulk your main dish out with vegetables - choose a chop suey dish from the Chinese takeaway, or pick one of the vegetable curries instead of a lamb dish from the Indian.
Think about whether you really need that extra side dish. The keema naan, sesame prawn toast or deep fried potato wedges all sound nice but if you over eat, you won't be doing your health any good.
With pizza, opt for a thinner crust small or medium pizza rather than a deep pan and massive one, and add vegetables as your toppings – sweet corn, mushrooms, olives and onions.
Ready meals are even easier; simply choose a healthier option from the supermarket shelf. Look for organic, or 'healthy choice' type meals that will have fewer additives, less salt, fat or calories. We don't need much salt in our diet and there are recommended daily amounts of salt, fat and calories printed along with the amounts actually in the meal.
Reducing The Fat In Your Fast Food
Another problem with fast food is that a lot of the dishes on the menu are loaded with fat too. There are ways that you can get around this, with clever menu choices.
On the burger bar menu, opt for a fish or chicken burger, or even nuggets. Vegetarian options are not much different in calorie and fat content in some cases than the standard cheese burger so if that's what you're concerned about, don't think swapping for the veggie option is going to make all the difference.
Bulk up your fast food meals with healthier side dishes – for example swap the Chinese special fried rice for steamed, and add some streamed vegetables to your order too. With a fried chicken meal you could swap the salty, greasy fries for some baked beans or a corn on the cob, which will add bulk and nutrients and remove the unhealthy influence of stringy fries from your meal!
Indian takeaways can be full of staggering amounts of fat as many of the dishes are cooked in ghee – clarified butter. This makes them utterly delicious but also incredibly fatty. Korma, Masala and Passanda dishes are three of the most popular and main offenders with the fat content. You could either opt for a vegetable biriani or another type of vegetable based dish...or you could just get a little of the sauce and leave most of it in the container. Definitely don't go soaking the rest up with a naan bread!
Opt for lower fat versions of ready meals, and check the salt levels too. This is a lot easier with a ready meal as the information is all there for you. Add a side salad or some rice to bulk up the meal and make you feel more satisfied – portions can be notoriously small...
There are ways around the unhealthy reputation of fast food, you just have to go armed with a little knowledge and a bit of creativity.
You might also like...