Fascinating Fast Food Trivia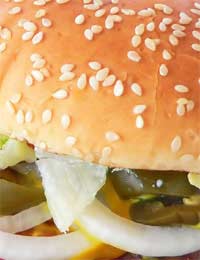 What do you know about fast food? Here are a few strange but true facts and figures that might just make you think about your favourite fast food treats...
Fancy a Curry?
Indian is one of our favourite fast foods, and in the UK we each eat (on average) around 2.2 curries per week – costing us a total of £2.8 billion per year.
Indian restaurants are good employers too. In the UK they employ more people than steel, mining and shipbuilding industries put together.You might wonder why if you eat at an Indian restaurant abroad, they don't know what your favourite curry is. That's because most of the dishes on UK Indian menus are specific just to the UK. Many of the names for popular UK dishes were created by the people who introduced Indian restaurants to Britain.
It might also surprise you to learn that the recipe for a Chicken Tikka Masala is different in nearly every Indian restaurant!
A Pizza Trivia
Pizza is so much a part of American fast food culture that since 1987, the month of October has been designated officially National Pizza Month in the US.
During TV news broadcasts, most people seem to order their pizza during the weather forecast.
There are around 10,000 pizzerias in the UK.
It's estimated that every man, woman and child in America gets through, on average, 46 slices of pizza per year.
Finger Lickin' Chicken
KFC have had a few issues with slogans since expanding into the Far East. In China, the 'finger lickin' good' slogan was roughly translated into 'eat your fingers off.'
The world's largest Kentucky Fried Chicken restaurant isn't in the US, but actually in Beijing. Chicken is very popular in China, where there were 600 Kentucky Fried Chicken as of 2002. China is actually the second largest fast food market – the US is top of the chart for fast food.
Fast Food Facts about McDonalds
Did you know that if you fancy a Big Mac in India, you need to ask for a "Maharaja Mac", a burger that's actually made from mutton rather than beef, for religious reasons?
You've heard of drive-thru – well in Sälen in Sweden they've opened the world's first ski-through McDonalds!
If you want to learn even more about McDonald's – they have their own fast food training school, called the Hamburger University, in Oak Brook, Illinois. The university has been open since 1961, and since then over 50,000 students from all over the world have graduated with Bachelor of Hamburgerology degrees...
You can find the most northern McDonald's restaurant actually on the Arctic Circle in Rovaniemi, Finland, and the southernmost store is in Invercargill, New Zealand.
Fish and Chip Supper
In the UK, fish and chips reigns supreme and the traditional fish suppers is the nation's favourite. Fish and chips outsells Indian food at a rate of 2:1.
An average serving of chip shop fish and chips may not be as unhealthy as you think – a portion contains around 60% of the number of calories that would be provided by a meal of sweet-and-sour chicken, egg-fried rice and vegetable spring roll.In North Wales and the North of England the chip shops serve a delicacy called 'Peas Water' for free. This peas water is the water strained from the mushy peas. You can also get 'Pea Wet and Scraps' – which is a combination of the pea water and pieces of batter and chip ends rescued from the fryer.
You might also like...
It iz well yummy , i not be carin' bout al deez factz cuz it iz so yummy an me n my kidz r e tin it evri dey cuz it iz quikur dan me maykn me own fuud .
Professor. Jamal Zia
- 9-Jun-11 @ 2:41 PM