Has the Burger Had its Day?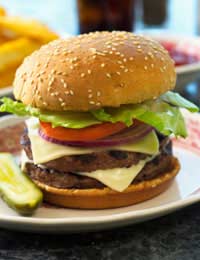 The burger bar may well have reigned supreme over the sensibilities of the fast food consumer for a very long time, but the tide is a-turning now, and after decades of Golden Arch domination of the high street, it was announced in March 2011 that Subway had now overtaken McDonald's as the largest fast-food chain in the world.
Subway Facts and Figures
In 2000, Subway only had 25 UK stores but now the franchise-based fast food chain has, as of March 2011 anyway, 1,350 stores here, more than anyone else, including McDonalds. Worldwide, there are 33,749 Subway restaurants to choose from, while McDonalds is languishing behind at just 32,737. In the UK, Subway was the country's most successful sandwich retailer of 2010.
Why Has Subway Overtaken Burger Chains?
It could be argued that Subway exploited the novelty factor, and by the time they arrived in the UK, consumers were fed up with monotonous variations on a beef patty. It was time for a change and the UK was getting health conscious so a chain that offered freshly made sandwiches, in any variation you choose (you can pick your own salad, sauces and even bread) would be likely to win over a new breed of curious fast food eating consumer.
The second most popular choice is the Meatball Marinara and the top spot is taken up by the firm's BMT (Biggest, Meatiest, Tastiest, filled with pepperoni, salami and ham). So perhaps the Subway healthy eating tag, which has been accredited for ousting the ubiquitous burger in a bun from the top spot, isn't so accurate?
Subway also rivals McDonalds and other fast food burger joints with its prices, unlike other higher end sandwich chains like Prêt a Manger, the sandwiches are cheap and there are always meal deals – very much like those you get in Burger restaurants. To a cash strapped public, money matters, so a fast food menu that offers variety and value for money will be a winner. Burger bars can still offer cheap, filling food, but can't compete with the endless variety of a sandwich chain – the different combinations on offer mean that although you could only eat in a burger bar so many times before you've quite literally tried everything on the menu, a sandwich that can be changed to accommodate your own tastes offers so many variations that you could eat there every single day and have a different lunch (or dinner).
How Will Calorie Counted Menus Affect Burger Chains?
It will be interesting to see how the proposed measures to make retailers publish the calorie counts of all their menu items actually on the menu will affect the rivalry between burger bars and sandwich chains. Although some commentators think that giving consumers calorie information will make very little difference to their menu choices anyway, if you are health-conscious it could be argued that you'll naturally gravitate to a chain that uses the slogan 'Eat fresh' and eschew the greasy, soggy burgers.The truth is that while Subway is marketed as a healthy fast food chain because sandwiches are viewed as a healthier choice than a burger – there's likely to be as much if not much more fat, salt and calories in some of the most popular sandwiches than in a Big Mac.
For example, a six-inch Meatball Marinara, contains over 500 calories and a whopping 11 grams of saturated fat. That's just the six inch sub. Opt for a foot long and you don't need to be a mathematician to work out that there's an awful lot of fat and calories in one of their top sellers, and that just like burgers, you really should restrict your intake of some Subway sandwiches to 'occasional'.
If consumers really want to be healthy they can pick a Veggie Delite Salad or a Turkey Breast Wrap – two options which genuinely are healthy – and you can avoid extra cheese, sauces and fatty meats if you prefer. At the same time, Burger chains also offer healthier options, and a plain, small burger is probably less calorific than you would think.
While the healthier options are certainly making their mark on the British high street, and the rise of the coffee shop is probably another bone of contention for the old fashioned fast food burger joint, it's still unlikely that McDonalds or Burger King will be going out of business any time soon.
You might also like...