LA Has Banned Any New Fast Food Joints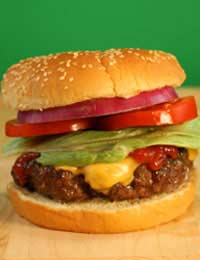 A ban on the building or opening of any new fast-food restaurants in South Los Angeles is being joined with a potential 'Happy Meal Ban' in an anti-fast food movement that's been condemned by fast food giants in the United States.
San Francisco is set to ban fast food restaurants from giving away toys with children's meals if the meals contain have more than 600 calories or too much fat, salt and sugar, while restrictions on new stand-alone fast-food restaurants was passed by the City Council in 2008.
Banning Happy Meals in San Francisco
The Happy Meal stance has been ridiculed by some commentators, who say that it's the parents' job to decide what to give their children to eat and not that of the politicians with their agendas, at the same time, health campaigners were supportive, saying that it could help cut levels of childhood obesity. The outgoing mayor of San Francisco, Gavin Newsom, attempted to veto the ban, but it managed to get past the city's Board of Supervisors anyway. In effect, it means that from December 2011, all children's meals which come with toys must contain fewer than 600 calories and 640mg of sodium, and less than 35 per cent of their calories must come from fat.
In 2006, American fast-food restaurants were said to have spent a massive $161m (£100m) on advertising which was aimed at children under the age of 12, and an estimated $360m on 'Happy Meal' type toys given away free with kids' meals, according to a 2008 report from the Federal Trade Commission.
The Fast Food Moratorium
The moratorium in South Los Angeles imposed a ban on any new stand alone fast food restaurants, and since it was implemented there have been no new stand-alone restaurants built at all in South Los Angeles. The LA city officials also want to impose distance requirements of either a quarter-mile or even a mile between fast food joints. The ban covers 45 square miles of South Los Angeles.
Unsurprisingly the fast food companies aren't at all happy with the ban, claiming that it's unfair and that market forces should determine whether and new franchise outlets should be built.
To date, the restrictions are thought to have put off plans for about ten potential stand-alone restaurants, although it could also be that the economy played a part in those decisions. There have been some new openings in mini malls in the city though, as there weren't affected by the moratorium.
Why was the Ban Imposed?
The moratorium was initially supposed to be a complete ban on all new fast-food eateries. It was proposed as a result of concern from activists and officials about health issues, following a survey which had shown that there were around 72 quick-service restaurants in every square mile of South Los Angeles, and too many fast-food restaurants which served up a menu of unhealthy food.
The restrictions were relaxed slightly after opposition from fast food forms, so that new restaurants could open in mini malls or if they could meet certain requirements, which included how the buildings were designed. For example, buildings must face the street, and have parking at the back, and anyone applying for permission needs to complete what's called a 'hardship application' explaining why the restaurant would benefit the neighbourhood.
You might also like...