Scandinavian Fast Food Treats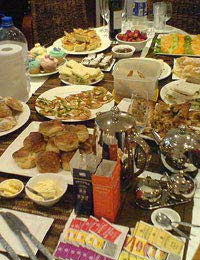 The Scandinavian countries aren't generally known for their fast food, and that's reflected in the fact that at the last count their rate of obesity was estimated to be a very healthy 10 per cent of the population. Despite a diet of heavy grain consumption and fatty fish and meat, the Scandinavian diet is widely believed to be one of the healthiest in the world, and there have even been diet books devoted to the subject.
Quick and Easy – the Smörgåsbord
You've probably heard the work smörgåsbord – well this Scandinavian snack food speciality is actually just a number of small dishes that you can choose to graze from. If you're offered a smorgasbord, it's likely to contain a lot of picky little hors d'oevre style dishes like sweet-pickled herring, some pickled herring with onions, mustard or other dressings, Swedish meatballs, salmon, pies, 'Jansson´s temptation' (which is sliced herring, potatoes and onions baked in cream), eggs, bread, boiled and fried potatoes . There really is not limit to what the Swedes, in particular, can invent to add to their smörgåsbord. The smörgåsbord used to be used as an appetiser before meals, but not it's more of a meal in itself, probably because there are more options than ever to choose from!
Out and About in Scandinavia
When you're out and about in Sweden, you can usually find stalls selling hot snacks such as hot dog sausages in buns or flatbreads. You usually get the choice of either a fried or boiled hot dogs, and can ask for it to be served up with French fries or mashed potatoes together. Pizza is also popular in Swedish cities, and in fast food restaurants there are an array of more unusual but not particularly Swedish options such as kebab sand falafel, which the Swedes are surprisingly adept at.
Dill chips - Potato chips flavoured with dill - are popular in Sweden, and light sandwiches with some thin meat and dill are available everywhere.
For a cheap Norwegian-style snack while you're on the move, simply look for a grill or convenience store, and they can serve you a sausage (pølse) or hot dog (kjempegrill) in either a hot dog bun (brød) or wrapped in a flat potato bread (lompe). Optional Norwegian speciality toppings include pickled cucumber (sylteagurk), fried onion (stekt løk) and shrimp salad (rekesalat). Or you could choose a kebab i pita - lamb meat roasted on a spit then fried to order, with veggies in a pitta bread.
Coffee and Cakes
Coffee shops are big all over Scandinavia – maybe the lack of light means they need caffeine to keep them alert? Either way, the Swedes are said to rank second in the world for coffee drinking and are only usurped by their Norwegian neighbours. People in both countries will quite happily drink coffee for breakfast, with their lunch and at their coffee breaks, but Swedes even hold special coffee parties (kafferep) where you'll find plenty of coffee, supplemented with home-made buns and cakes.
Fast Food Chains in Scandinavia
Fast food restaurants like McDonalds and Burger King tend to work out more expensive and therefore less popular in Scandinavian countries than in some other northern European countries. In Norway, for example, there are strict regulations about food hygiene that make the overheads more costly for fast food premises and this impacts on the cost. You can still get the big chains in Scandinavia, but with a Big Mac meal for example costing the equivalent of over £10 (depending on the exchange rate) it's not the cheap and cheerful option it is in some countries. Most fast food chains, and restaurants that also offer a takeaway option legally have to charge more if you eat your food at the restaurant.
Norwegian Open Sandwiches: a few ideas for an Authentic Norwegian snack:
Add some smoked salmon slices to a buttered slice of white bread, add either scrambled egg or hard-boiled egg slices and sprinkle with dill.
Add shelled shrimp or crabmeat to toast, mixed with mayonnaise and lemon.
On whole wheat bread, add some anchovy fillets and a egg yolk inside an onion ring, then sprinkle the lot with chopped chives.
For a really authentic open sandwich - sdd some roast reindeer meat to whole wheat bread, garnish with poached apple wedges and top with lingonberry preserves.
You might also like...