What's in a Takeaway Pizza?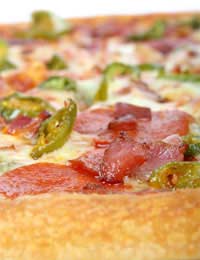 Have you ever wondered just what's in that pizza that you've had delivered steaming hot to your door on a Saturday night? What ingredients are in the delicious toppings? Well, it depends on what you order and where from, but a pizza isn't always as innocent as you think.
What Should I Have On My Pizza?
The tomato based pizza topping one of the better ingredients, as tomato contains vitamin C. Cooked tomato in the form of pizza and pasta toppings, and even in tomato ketchup, is a great source of an antioxidant called lycopene. Cooked tomato actually releases more of this nutrient than raw, so have as much tomato as you like!
Most pizzas are covered with cheese, a topping that while it's high in calcium and protein is also gram for gram higher in saturated fat than chocolate. So if you're ordering a pizza, ask for them to go easy on cheese – or some chains actually offer a lower fat cheese option but this isn't available everywhere, so you'll need to check your menu.
If you want to get the best from your fast food, cover your pizza with sweet corn, mushrooms, onions, olives and as many other vegetables as you can fit on. These will give you a better nutritionally balanced meal, and the ingredients will be naturally low in fat and calories.
As a rule, meat based ingredients are the higher calorie options like pepperoni, bacon and spicy beef. These are OK in moderation but try to go easy on them and don't go for 'meat lovers' or 'double pepperoni' options if it's healthy ingredients you want. These toppings can really push the fat and calorie content of your takeaway up and the salt in processed meat won't do you any good either.
Other good protein options include chicken and turkey, ham, prawns and tuna, all lower in fat and calories, and apart from the ham, unlikely to be processed so also lower in salt that the processed and fatty meat ingredients.
What's In The Base?
Pizza bases differ according to where you order your takeaway from. Most fast food takeaways will offer a deep pan option, or a thinner crust variety, and if you are trying to be healthy, it's usually better to opt for the thin crust version. On average, although it depends on the ingredients and size, a deep pan pizza can contain 35% more calories than a thin crust. All the extra dough does is fill you up so that you can't finish you pizza, so it's a painless swap to opt for a thinner base.
An Honest Crust
The last part of the pizza that can contain hidden caloric and fatty ingredients is the crust. Cottoning on to the fact that people often leave the crust in favour of the part of the pizza with the toppings on, some bigger chains have started to stuff the crusts of their takeaway pizzas with ingredients like pepperoni and garlic flavoured cheese – all undoubtedly delicious but not necessarily good for your waistline or health.
It's fine to have the higher fat options occasionally but as a rule try and steer clear of extra cheese and processed meat ingredients, add extra vegetables and keep your pizza thin crust, and you'll have a healthier takeaway.
You might also like...