Cooking With Fresh Ingredients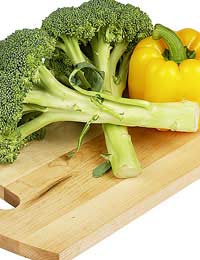 Cooking seems to be something that we only see on the television these days, and while we sit and salivate while watching TV Chefs prepare meals fit for a king (and making it look easy into the bargain) we seem to limit out own efforts to buying the book that goes along with the TV series, and reading the recipes aloud. It's not called 'gastro-porn' for nothing – most of our cook books are there for decoration and salivation only, and rarely get brought out of their hiding places in the kitchen on special occasions!
Why Are Fresh Ingredients So Special?
It's not so much that the ingredients we use are fresh, but that if we cook a meal from scratch, we know where it's come from. Not many people have jars of food chemicals and e numbers in jars around the kitchen, so with fresh cooking you know exactly what goes into every morsel we cook and eat. Cooking from scratch, using fresh ingredients, can also cut down on packaging, and food can prove to be less expensive if you choose the right ingredients for cooking with.
Cooking with fresh vegetables and fruit, in particular, means that you can ensure the freshness of what goes into your meal. You know that the apples for your oaty crumble have been bought from the local green grocer that morning and are as fresh as they possibly can be...and that the courgettes and peppers for your ratatouille are also bursting with nutrients and haven't been sitting around going mouldy on a shelf in a warehouse.
The same applies to meat. When you roast a chicken that you've bought yourself, adding just herbs, spices and vegetables, you know that the chicken is not past its use by date, and if you choose organic or free range chicken you have that choice available to you. You also know that you can use the leftovers in tomorrow's cooking – a pie or a pasta dish. If you buy a readymade 'roast chicken dinner' you have no control over where that meat comes from. If you buy a chicken pie or pasta you don't even know if the chicken all comes from one bird, let alone the conditions it was kept in.
Is Cooking With Fresh Ingredients More Expensive?
It doesn't have to be. Cooking from scratch can be something as simple as preparing an omelette for tea with some salad and chopped mushrooms, which hardly costs anything. Supermarkets are cottoning on to the fact that people want to eat more fresh fruit and vegetables and many of the larger stores now have constant low price deals and offers on different types of fresh fruit and vegetables, so you can use different types of vegetable in your cooking every week!
Cooking with fresh ingredients also means that you get to keep the leftovers and use them. Decades ago, all girls were taught 101 uses for a chicken – roast it on Sunday, make gravy from the giblets, boil the bones to make stock and a soup, pies, sandwiches and all possible variations. These days most young people wouldn't know what to do with a whole chicken - we're so used to seeing them in ready prepared form, covered in breadcrumbs and lovingly shaped.
If you go the whole way and decide to use only organic produce, and free range eggs, you might find that your shopping bill does go up, although you will be getting a better quality product for your meals. The best way to get around this is shopping locally – local farmers markets are a good place to find lovely fruit, vegetables and cheeses, not to mention all the delicious home produced jams and pickles, eggs, cakes and baked goods. Cooking is fun, and thoroughly satisfying, so if you have a chance to make a few meals from their raw ingredients, try it!
You might also like...