The Lack of Healthy Options When Eating Out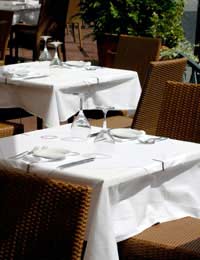 If you're trying to be healthy, or stick to some kind of diet, eating out on the high street can be a minefield when it comes to eating on the move. The temptation of burger and fries, the smell of chicken and the two for the price of one offers on pizzas can make even the most dedicated dieter or healthy eating fan cave in.
The Lack Of Healthy Places To Eat
There's no doubt that things are starting to look up for people who care about their health but still need to eat on the go. It may not be ideal yet, but the days of eating out being restricted to soggy burgers or chips are on their way out, and a fast growing 'healthier' fast food movement seems to be kicking off.
Healthy Eating – Sandwiches And Cafes
If your mission is to be healthy, you're definitely best to bypass the usual suspects and consider heading for one of the new style, trendy juice bars or sandwich bars. Even there, you have to know what you're looking for.
Juices are undoubtedly healthy but also full of calories...sometimes you're best getting your vitamins from the real thing instead of the juice. But juices and smoothies can provide a well deserved healthy vitamin hit so shouldn't be dismissed out of hand. They are certainly much better for you than a syrupy cola or latte with full cream milk from a coffee shop.
Sandwiches can range from the positively glowing with health to the mayonnaise laden and fatty. It's easy enough to choose a sandwich...but best to try and get one freshly made. Some sandwiches, like those in shops such as Pret a Manger, are wholesome and natural, contain no artificial additives and may even have healthy organic ingredients. But although this sounds saintly, remember to check the labels, as some of the cakes, sandwiches and other goodies can really rack up the fat and calories...even if they are organic.
Subway is another case in point. Make a good choice in there and you will be able to boast a healthy, nutritious meal. Add loads of salad, lean meats and go easy on the dressings and you can't go far wrong. Oh, and keep it to a six inch sandwich. Once you head into the territory of the twelve inch meatballs and cheese sub, with a muffin as well, you may as well have sat in KFC and eaten your way through a bucket because there are plenty of calories in both that you don't need!
Supermarket Healthy Offerings
When you're in a rush, the last thing you think about doing is visiting a busy supermarket. But they can be a great source of quick and easy food that's relatively healthy. Most have healthy eating ranges that cover wraps, salads and sandwiches, fruit and vegetable dips. You will probably find yourself spoiled for choice, and quite possibly end up spending more than you intended, but the choices are usually good.
Some supermarkets even have areas where you can heat up a meal you've bought, or some soup, so you might prefer to do that, and save yourself the hassle of doing it when you get back to the office, or home. Either way, you're bound to find something healthy that suits your mood.
You might also like...