Why Make the Effort to Sit Down and Eat?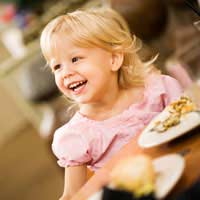 In today's hectic and hard working world, the sit down family meal seems to have become a bit of a relic of the past, and eating around a table while discussing the day's events seems rather quaint and old fashioned. But despite its old fashioned connotations, many studies have shown that families who make a point of sitting down and eating together can see many benefits.
What Are The Benefits Of Sitting Down And Eating?
Firstly, it encourages people to eat more slowly. Time and time again it's been shown that eating food too quickly can lead to indigestion, poorly digested food, irritable bowel syndrome, and over eating too. If you're concerned about obesity, get the family to sit around a table, eat slowly and enjoy their food, rather than eating on the go, bolting a ready meal and running off. This gives time for the healthy food you're eating to be digested properly, and encourages a healthy diet rather than one of snack and junk foods.
Socially, sitting down with family to enjoy a meal, is much preferable to eating rubbish on the go. It gives you and your family time to talk, laugh and get to know what's going on in each other's lives, and can add a sense of stability. It can also help to encourage a healthy approach to food and eating – even getting the kids involved in preparing food for the meal can add to the sense of enjoyment.
How Can You Get The Family Together?
Try making dinner by appointment! Some days you may have to work late or the kids may be out with friends, or enjoying after school activities. But make an effort to spend some time together and schedule meals in at the start of the week – make them an occasion and don't let them become optional!Keep a lid on those easy to fall into snack habits – try and set snack times (after school or in the office) but don't snack and graze all day long, as by the time dinner time approaches, the idea of eating a full meal will be less than appealing.
Cut down on ready meals, fast food and junk food at the dinner table, and set a target of eating fast food and takeaways less than twice a month. You'll save money, be healthier, and you can also experiment with making your own healthy versions of fast food meals that will taste much better and not be packed full of fat and salt.
Have a designated place to eat – if you have a dining room that's perfect. If not a dining table or kitchen table is fine. Get the kids to associate eating with sitting down in one place and not taking food all over the house (and probably making a mess with it too.) Try and make sit down family meals relaxed and don't rush the meal. Eating should be fun and relaxing so turn off the TV and computer games, and make the most of each other's company.
Getting Everybody Involved In Family Meals
Get everybody involved in cooking the family meals, and the team effort will start to pay off, especially with younger kids. Perhaps you could take turns in choosing the meal for the day, and everyone gets a say in what they are eating. Recruit the children into cooking healthy meals and talk to them about the ingredients, what the different fruits and vegetables are good for, even where they come from.
Let very young children help with tasks like stirring, pouring, and easy preparation, and give older kids the responsibility to choose a meal and cook it themselves with supervision.
Keep family meals simple, they aren't intended to impress dinner party guests; the aim is to get everyone together and just enjoy the food and family time.
You might also like...