What to Go For at the Coffee Shop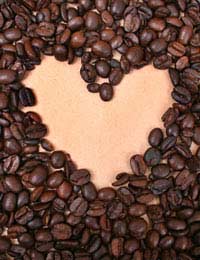 It's easy to rely on coffee to keep you going when you're on the move, and the abundance of trendy coffee shops means that there's always a gourmet coffee to be had on every street corner.
"Just going for a coffee" certainly doesn't sound quite as greedy as '"Just nipping out for a burger" and so you could be led to believe that a coffee shop fix isn't going to do your diet, your waistline or your health any harm.
Coffee is calorie free when you have it milk free and sugar free, but that doesn't make it an ideal drink because it's also said to be addictive. Caffeine is a stimulant too, so it can affect your mood, elevate stress hormones and generally give you the jitters if you drink too much.
Gourmet Coffee Shops
It's not just boring old black and white coffee that you have to choose from these days when you walk through the doors of a coffee shop. There is a plethora of different drinks, some of which need an explanation.
A study that took place in America looked at gourmet coffee consumption of 165 women who attended a college in Boston. The researchers found that the women who drank gourmet coffee racked up an average of 206 calories per day and that they also consumed 32 grams more sugar intake than women who didn't drink this type of coffee. It may not sound a lot, but a calorie increase like that on a daily basis can add to a gradual weight gain of up to 20 pounds in a year!
The amount of syrup and sugar in some gourmet coffee concoctions can also affect the blood sugar, causing it to surge, and eventually store more of the calories from the drink calories as fat. To make things worse, sugar and caffeine together can stimulate your appetite to eat more than you normally would during the rest of the day.
There are two basic reasons coffee is a problem for the person trying to lose weight. (It's no bargain for the person who isn't either, by the way). The first reason is psychological, the second physiological.
What's in a Normal Coffee?
If you're trying to keep sugar, fat and calories to a minimum, stick to the boring drinks! On average:
Medium black coffee - 10 calories, 0 grams sugar
Medium Cafe Americano - 15 calories, 0 grams sugar
What's in a Gourmet Coffee?
If you crave a sugar hit, and want to indulge at the coffee shop, at least arm yourself with the facts about the amount of sugar and calories in each drink.
Grande (medium) Cafe Latte - 260 calories, 19 grams sugar
Medium Mocha - 400 calories, 33 grams sugar
Medium Caramel Macchiato - 310 calories, 34 grams sugar
Medium Hot Chocolate - 350 calories, 40 grams sugar
Medium White Chocolate Mocha - 510 calories, 55 grams of sugar
Consumer group Which carried out a survey into coffee shop drinks recently, and revealed that although some of the drinks at the three major coffee shop chains contained enough calories to equal the average dessert, the damage could be limited by 'going skinny'. A black 'Americano' coffee is the skinniest of coffees, but second to that was a skimmed milk cappuccino which only clocked up 27 calories, followed by a skinny latte with 71.
The survey also found that if you're dropping in to a coffee shop for lunch, a burger would be a healthier option than some snacks you'll find there, including the sandwiches and flapjacks as well as the decadent chocolate cakes.
You might also like...