Coffee Shops and Cakes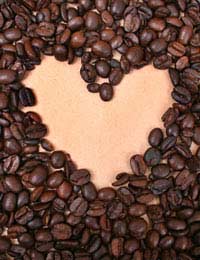 One new development in the fast food market in the last ten years or so is the emergence of the coffee shop as a place to meet people, hang out and just chat. The coffee shop 'Central Perk' in the TV series Friends seems to have inspired many chains of coffee shop, and now there are several large chains as well as smaller independents to choose from.
Seen as more sophisticated and welcoming than your usual fast food burger bar or restaurant, coffee houses still sell fast food, and much of it, including some of the drinks, which are more like creamy desserts than a beverage, are full of fat and calories. It's certainly worth knowing what you are letting yourself in for before you order your latte and muffin – too many social visits to the coffee shops and you could find your waist expanding.
Coffee Shop Drinks – Fast Food In A Mug?
The trouble with ordering a coffee in a nice coffee shop is that you can't just order a coffee. You can order a latte, a macchiato perhaps, even an Americano...but a white coffee is not on the menu. A tip for anyone looking for a straight coffee, is to always go for the Americano, with or without milk depending on your preference. This will be a decent cup of coffee, with no foam, made with water. It's probably the lowest calorie and fat option on the menu and can save you hundreds of calories if you're watching your weight.
There's nothing wrong with choosing a latte – and these come in several variations too. You can have them with soya milk, with syrup or with an extra shot of coffee. You can even have special seasonal lattes and drinks with all manner of chocolaty, cinnamon and delicious toppings. It goes without saying that if you want to watch your weight, decline the whipped cream and flake, and the extra chocolate sauce. One recent news article tested a chocolate mocha coffee with cream and found that the whole milk version contained over 620 calories – almost a third of a woman's suggested calorie intake!
Opt for a skinny – a skimmed milk latte, pass on the syrup, and you can just about get away with it!
Fast Food Snacks In Coffee Shops
Another temptation in coffee shops is the range of cakes and snack type goodies that they sell. Sandwiches and paninis are usually on offer, some outlets stock them in wrappers so that you can check the nutrition on the back but others are hit and miss. If you're on a diet and you can't see the calories or fat content, you might decide to leave well alone.
The cakes and pastries are usually displayed right in front of you as you queue, so to tempt you as you wait. It's not rocket science that the huge muffins and chocolate twists are going to be laden with fat and sugar...so if you want to include them in a healthy diet, it's best to limit them. Cakes and muffins are the same, with so many different flavours of muffin it can be hard to resist. You might want to resist if you realise that a blueberry muffin in Starbucks can contain almost 600 calories!
Coffee shops sell fast food which is undoubtedly delicious, but in reality most of it is no better for you than cheap burgers and chips!
You might also like...